Bride and groom arrested in suspected sham marriage raid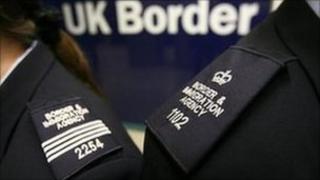 A 'bride and groom' arrested as they prepared to take their wedding vows in Armagh on Monday have been charged with immigration offences.
The Pakistani man and Latvian woman were arrested at a register office.
Muhammad Naeem Aslam, 22, appeared before Armagh Magistrates Court on Tuesday charged with seeking to obtain leave to remain in the UK by deception.
The bride, 21-year-old Jolantea Juska, was charged with assisting unlawful immigration.
Her sister 26-year-old Jana Juska who acted as witness to the marriage faced the same charge.
They were all remanded in custody to re-appear at a later date.
Officers from the PSNI and UK Border Agency took part in the raid.
In a separate operation also on Monday, a marriage that was due to take place at Belfast City Hall was stopped and after questioning, the groom a 21-year-old Pakistani national, was arrested by UK Border Agency officers for overstaying the conditions of his visa.
A sham marriage typically occurs when a non-European national marries someone from the European Economic Area, or the UK, as a means of attempting to gain long-term residency and the right to work and claim benefits in this country.
Earl Aiken, senior criminal investigator for the UK Border Agency, said: "The UK Border Agency is determined to identify marriages that may not be genuine, and where we suspect that may be the case we will investigate.
"We have specialist teams of immigration officers and police working together to investigate cases just like this and ensuring people are not able to benefit from breaking the UK's immigration laws."