Boxing champion Brian Magee greets new daughter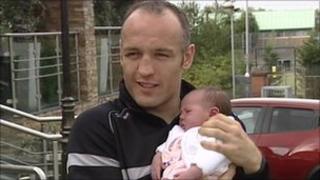 Belfast boxer Brian Magee has arrived home from Costa Rica bringing the interim WBA super-middleweight belt with him.
There was double celebrations - the champion was more excited about meeting his new baby daughter who is only five days old.
He returned to the arms of his wife, Catherine, and his new baby.
Although he had seen her photograph on the internet it was the very first time he had had a cuddle.
There was applause for winning the champion's belt and applause for the new baby.