GAA player injured in San Francisco wakes from coma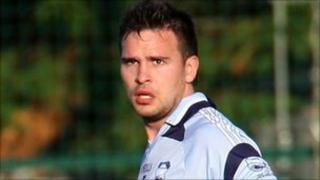 A Fermanagh GAA player who was seriously injured in a match in San Francisco has woken from over a month in a coma.
Mark McGovern, from Belcoo, was hurt in an off-the-ball incident in a game in June.
The 20-year-old's parents and three sisters have maintained a vigil at his hospital bedside for the last five weeks.
His sister Helen said Mark has made "small steps, but the right steps".
"We are delighted that he has opened his eyes and been able to communicate," she said.
"He hasn't been able to talk yet, however, he can whisper slowly and we can lip read if he wants something.
"It's small steps but certainly the right steps and we are happy. We hope he makes a full recovery."
But the team treating Mark has warned the McGovern family that he still has a long way to go.
"The doctors have said to be patient and even at this stage we do not know what brain injury Mark has and how it will affect him," said Helen.
"We think that his memory seems to be okay, but the doctors can not give any definite answers as to how he will be in the long term and what long term affects he may have.
"Mark does like us being there with him, he's never been left on his own. The doctors and nurses have been very nice at the hospital.
"They have allowed one of us to stay overnight with Mark each night since he has become more alert. We don't want him to be alone."