NI people more likely to text, take pictures - Ofcom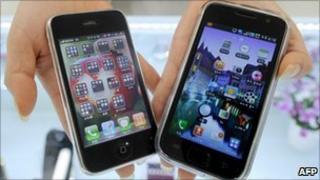 If you're surgically attached to your mobile phone, have a wide-screen digital TV, or spend a lot of time on social networking sites then it seems that you're not alone.
The latest figures from the communications regulatory body Ofcom show that take up of almost all types of technology communication has increased.
The statistics for mobile phones are particularly interesting.
Although levels of uptake in Northern Ireland are very similar to the rest of the UK, there are some quirks in terms of how people use their mobiles.
In Northern Ireland we're more likely to text, take photos on our phone, send those photos to others, and play games.
"I'm not sure what that says about us generally, but it's an interesting statistic," Jonathan Rose from Ofcom said.
Pre-pay phones still dominate the market, 66% of people prefer to pay as they go rather than sign up to a contract.
Mr Rose said that could be because we have more young people in the population as a whole, and that's often a good option for them, or it could be that people are trying to control their spending and see pre-pay as a clearer way of doing that.
It's the first time that the survey has measured the uptake of smart phones, and while 92% of people in Northern Ireland have a mobile, 23% of those now have a smart phone.
DAB Radio
We're still a long way behind the rest of the UK in terms of DAB radio take-up, but Mr Rose said that wasn't something to be concerned about yet.
"There's been a bit of a tradition of Northern Ireland starting off very slowly but once we get our teeth into something we really go for it."
"There is a wider discussion and debate about what the future of digital radio will be and obviously that's a matter for the UK government to decide in due course," he said.
When it comes to broadband and mobile phone signal, people in Northern Ireland are increasingly satisfied with their coverage.
That reflects some infrastructural improvements that have been made in recent years as Northern Ireland has been playing technological catch-up.
We also have the highest percentage of people who have opted for pay TV, with 65% of homes signed up to some form of pay for television.