Extradition for ATM scam wanted Modestas Mockevicius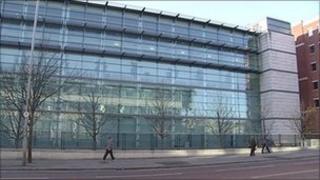 A Lithuanian man wanted for a series of alleged fraud offences is to be extradited within the next ten days, a judge in Belfast has ordered.
Modestas Mockevicius, 30, was being sought over 44 suspected offences.
The allegations against him include multiple counts of ATM fraud.
He had been living in NI for the past three years with an address in the Newry area. A European arrest warrant was served on him after he was taken into custody over separate issues.
Mr Mockevicius appeared before a court in Belfast on Wednesday to confirm that he consented to being returned to Lithuania.
Judge Piers Grant told him: "I order that you be extradited to the requesting country within 10 days of today's date."
He was remanded in custody until the arrangements are finalised.