Michael O'Leary in NI air passenger tax scrapping call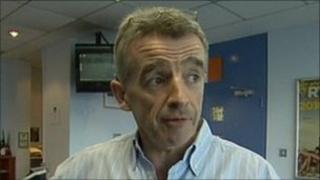 The boss of Ryanair has called for air passenger duty in NI to be scrapped.
Air passenger duty currently adds up to £170 to a flight out of NI airports.
Michael O'Leary, who has clashed with the Republic's transport minister over air passenger tax there, said it should be abolished across Ireland.
Politicians have already called for a cut in the NI rate after Continental Airlines, which operates between Belfast and New Jersey, said it may have to withdraw because of the duty.
"It's doing untold damage to air travel in the north of Ireland," Mr O'Leary said.
"We believe there should be no tax for people visiting the island of Ireland, north or south."
Mr O'Leary said the rates in the UK and the three euro rate in the Republic meant both countries were missing out on the "enormous growth" being delivered across Europe by his airline.
The Irish transport minister has said he is unable to cut the three euros rate in the Republic as planned.
Leo Varadkar said he did not have solid enough commitments from airlines on how they will increase capacity.
Ryanair has rejected claims that it was not offering to commit to bringing in additional passengers.
The abolition of the three euros travel tax was one of a number of proposals announced by the Irish government in May to help attract more tourists to the country.
VAT on restaurants, hotels, cinemas, theatres, sports fixtures and other attractions fell from 13.5% to 9% from 1 July.
The lower VAT rate will run until December 2013.