Three men in court over Ballyclare riots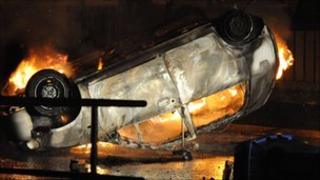 Three men charged in connection with trouble in Ballyclare in July have appeared at Belfast Magistrates' Court.
David Gowdy, 21, from Charles Drive, Ryan Charnley, 23, from Thornhill Drive and 55-year-old Ronald Cowan from Thornhill Parade in the town were arrested on Thursday morning during a series of raids.
Each is charged with rioting and possession of an offensive weapon with intent.
They all deny the charges.
Mr Charnley, a forklift driver, is also accused of having bricks and masonry with intent to damage police vehicles, and one charge of criminal damage to a car.
He and Mr Gowdy were released on bail under strict conditions.
They were told to stay out of Ballyclare after a detective said he was worried tensions would rise again because of the arrests.
Mr Cowan was remanded in custody after a detective said he believed him to be an orchestrator of the trouble.
All three are expected to appear again next month.