Ulster Bank makes loss of £566m in first half of 2011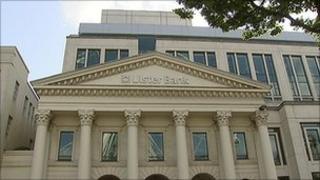 Ulster Bank made a loss of £566m in the first six months of this year due to ongoing write-offs of bad property loans.
The bank employs more than 2,000 people in Northern Ireland and 4,000 in the Republic.
It is part of the RBS group, which on Friday posted attributable losses of £1.4bn, due in large part to Irish property loans.
British taxpayers currently own more than 80% of RBS shares.
This is due to the government's bank bailout.
The Ulster Bank figures, which cover both NI and the Republic, reveal that the damage inflicted by the property crash is reducing.
Impairment losses dropped from £461m in the first three months of the year to £269m in the second quarter.
But the bank's contribution to the non-core division of RBS, where bad loans are housed, increased by over £100m to £982m in the second quarter.
Excluding property losses, operating profit dropped slightly over the second quarter. This was down to £80m compared to £84m in the first three months of the year.