Mayor's plea over east Belfast trouble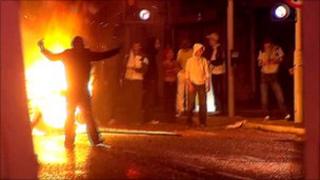 The lord mayor of Belfast has said statutory agencies need "to get a grip" on teenagers causing trouble in east Belfast.
Loyalist protesters blocked the Lower Newtownards Road on Thursday to highlight sectarian attacks on Protestant homes at the interface with the nationalist Short Strand area.
Sinn Fein mayor Niall O Donnghaile said there had been attacks on both sides.
He said nationalist and loyalist youths were liaising to create trouble.
In June, a barrage of petrol bombs, missiles and fireworks were thrown at police lines during the worst violence in the area for a decade.
Mr Donnghaile said "kids and teenagers on both sides" had been responsible for attacks in the Lower Newtownards Road area in recent months.
"They are orchestrating it together and they are in communication together," he said.
"They know each other.
"The PSNI, the Youth Justice Agency and other statutory groups need to get a grip, they know who these people are."
Loyalist protestors in east Belfast on Thursday said politicians needed to do more to address the issue of sectarian trouble.
They said residents in Duke Street had been subject to "constant attacks" with missiles including golf balls and boulders in recent weeks.
DUP assembly member Robin Newton said it was "extremely worrying" that trouble was continuing in the area.
Mr Newton said both he and fellow DUP MLA Sammy Douglas had circulated a letter asking people to contact the police and a community representative if they were aware of incidents.
He said Northern Ireland First Minister, Peter Robinson, had appointed a senior civil servant who was in the process of conducting an "analysis of need" in the area.
"There will be a strategy to tackle that need and there will be an operational plan to address that need," Mr Newton added.
"The whole programme is likely to include the community, public representatives, the police, churches, schools etc.
"This is a problem that can not be tackled just with a short-term fix."