Gavin Brett murder in Glengormley to be reinvestigated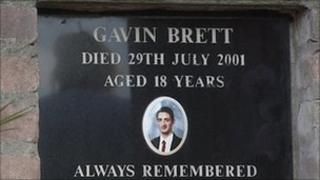 The police have confirmed they are to reinvestigate the loyalist murder of a Newtownabbey teenager in July 2001.
Gavin Brett, 18, was shot dead on the Hightown Road in Glengormley, County Antrim, as he stood chatting to a group of Catholic and Protestant friends.
The PSNI confirmed on Friday they had reviewed the case which would now be investigated by detectives from its serious crime branch.
The Ulster Defence Association (UDA) carried out the killing.
In a statement on Friday, the PSNI said initial contact had been made with Gavin Brett's family and that renewed police enquiries were at an early stage.
In an interview on BBC Radio Ulster, Gavin's mother, Phyllis said the impact of her son's killing was like being "hit by a concrete block".
She said Gavin's father Michael, who was a paramedic, had tried to revive his son, but to no avail.
"He was actually dead by the time Michael had got there and there was nothing he could do for him," she added.
"My husband actually got there before any other medical people did."
Mrs Brett said her son's murder was "totally unnecessary".
"It is devastating, it just tears your life apart, and your life is never really the same again," she added.
"You just couldn't believe this could happen to your child.
"You look at his friends and 10 years on quite a few of them are married and have families and you just go that's where Gavin should be.
"It isn't just Gavin's life they took away, it is what he could have had, it is such a waste."
She said she would be meeting the police next week in relation to the reinvestigation into Gavin's murder.
Mrs Brett added that she was "not optimistic".
"If people are dead and the person who sanctioned it is supposed to be dead as well, I really don't know where they are going to go with it," she said.
Gavin's father, Michael Brett, died in 2007, never seeing his son's killers brought to justice.
"If someone is brought to justice I feel they should serve a life sentence because that is what they have left us serving," Mrs Brett said.
"I feel they not only took my son's life, but killed his father as well, he just never really got over it."