NI's Common Agricultural Policy beneficiaries published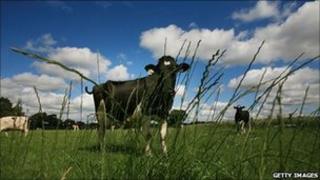 Details of Common Agricultural Policy Payments made to people in Northern Ireland running a farm as a limited business have been published.
A total of £20,733,736 in CAP payments were made for Northern Ireland in 2010.
The biggest beneficiary was TMC Dairies (NI) Ltd which has a milk powder plant near Strabane. It got £2,677,340.
Greenfields Ireland Ltd - a Belfast-based dairy products business - got £1,979,049 and Dale Farm £1,094,376.
Other, smaller beneficiaries included the Duke of Abercorn, who received £54,000 and the Sean Quinn Group of Enniskillen which got just under £8,500.
A number of churches also received payments.
The EU is considering how to reform its Common Agricultural Policy. It is to be revamped for the EU's next financial period, starting in 2014.
The CAP, which began operating in 1962, still accounts for more than 40% of the EU's budget.
In 2010 the budget for direct farm payments (subsidies) and rural development - the twin "pillars" of the CAP - was 58bn euros (£48bn).
In June of this year, the EU's main audit body said agricultural subsidies often go to people who do little or no farming.