Driver refuses to let double buggy on Lurgan bus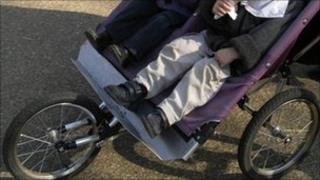 A mother-of-two has criticised Translink after a driver refused to let her on a bus with a double buggy.
Yvonne McConaghy had difficulty attempting to board a local bus in Lurgan with her children, aged three and 10-months.
When she asked the driver to assist her by opening a larger side door, she was told she would have to book that service with Translink.
"The bus came along and I got on as normal," she said.
"As it turned the corner, I got wedged in, and said sorry I can't get on here. I asked the driver to open the side doors.
"He said 'no'. He said I needed to book it to get it open. I told him I had been on buses before with the buggy."
'Distress'
Ms McConaghy said there were no other buggies on board at the time and opening the side door would have taken a matter of seconds.
"I had to get back off and I couldn't take the chance of getting another bus in case it happened again. So I had to get a taxi home.
"I think bus drivers, not all of them, maybe they need to retrain in customer care."
In a statement Translink apologised to Ms McConaghy for "any distress and inconvenience" the experience caused.
"We recommend that passengers in wheelchairs alert us in advance of their intention to travel so that we can ensure a suitable vehicle is operated on their journey," the statement added.
"We are currently reviewing our policy on how we accommodate larger mobile carriers such as children's double buggies."