Margaret Ritchie seeks SDLP leadership backing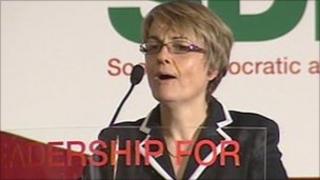 SDLP leader Margaret Ritchie has sent two letters to party members in what is being seen as a bid to shore up her leadership ahead of a challenge.
One of the letters - seen by the BBC - talks of the need for party renewal.
They include details of four meetings to be held across Northern Ireland this month to discuss local government strategy.
The letters come as Ms Ritchie faces a leadership challenge from the party's deputy leader Patsy McGlone.
On Tuesday, Mid Ulster assembly member Mr McGlone announced he would be launching the challenge.
It emerged later in the week that South Belfast MP Alasdair McDonnell was also coming under pressure from some sections of the party to stand for the leadership.
Ms Ritchie has been in the post less than two years but recent poor election results have prompted growing discontent within the party.