Marian Price bids to have Massereene charge dropped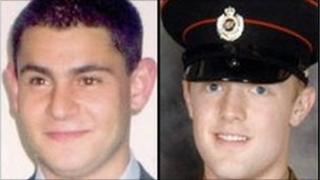 A republican will attempt to use a pardon she got 30 years ago to have a new charge linked to the murders of two soldiers thrown out, a court has heard.
A lawyer for Marian Price, 57, said a copy of the pardon has not been obtained despite a request to the NIO.
Price has been charged with providing property, namely a mobile phone, for the purposes of terrorism.
Two men are due to stand trial for the murders of Sappers Patrick Azimkar and Mark Quinsey in March 2009.
Price is to mount an abuse of process application in a bid to have the case against her dismissed.
It is claimed the decision to charge her was linked to a planned challenge to a decision by the Secretary of State to revoke her previous release from prison.
Price is currently beind held in the hospital wing of Maghaberry Prison.
She did not appear for Friday's hearing at Belfast Magistrates' Court which was to fix a date for the abuse of process application and committal proceedings.
Her solicitor, Peter Corrigan told the court: "As part of that application we had written to the NIO seeking a copy of the actual pardon that was conferred on the defendant in 1981.
"To this date the NIO still have not served that important document on us, and it is central to us making an abuse of process application."
The defence case is that terms of the pardon covered all of the offences for which Price was convicted in 1974, Mr Corrigan added.
Her lawyers are understood to be seeking to establish there was no power for the licence to be revoked.
The judge stressed that anything required to mount the argument should be provided by the authorities.
Mr Corrigan also confirmed that the defence would not object to anonymity being granted to one witness in the case.
That witness is from The Samaritans helpline service.
The case will be reviewed again later this month.