Bangor man Peter Greer bail over Duncan Morrison murder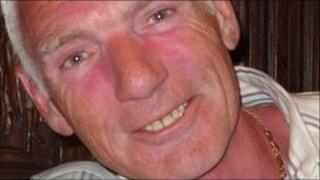 A man charged with murdering Duncan Morrison in Bangor has been bailed.
Peter Greer, 35, of Mountcollyer Avenue in Belfast is charged with shooting dead Mr Morrison at a house in the town in May.
He is also charged with attempting to murder Stephen Ritchie in the attack.
The judge said that the prosecution's case appeared to be that Mr Greer was an "accessory before the fact" and that its objections to bail were not strong enough to warrant refusal.
Single gunshot wound
It emerged in court on Friday that police believe two gunmen carried out the attack and that they were driven to and from the property.
The suspected killers are also believed to have carried out a dry-run a day before the attack.
Mr Greer, who is also charged with possession of a firearm or imitation firearm, denies any involvement in the shooting or knowing about the victims.
Opposing his release, crown barrister Nicola Auret said the guns used in the attack have not been recovered.
She also claimed there was a risk of interfering with witnesses.
The court heard police found the victims either lying or sitting on the kitchen floor of the house at Hazlebrook Avenue just after 12:00 BST on 13 May.
Each of them had a single gunshot wound to the chest or torso area.
Mr Morrison was declared dead on arrival and Mr Ritchie was rushed to hospital to undergo emergency surgery.
Ms Auret said two gunmen were driven to the scene by another unknown man.
Creeper burglary
"The gunmen alighted and entered the property, and two gunshots were heard to be discharged," she said.
It was claimed they then got back into the waiting Honda Civic and sped off towards Newtownards.
The car, which had been stolen during a creeper burglary in west Belfast, was found on fire at the Somme Heritage Centre.
A Volkswagen Golf which belonged to Mr Greer was also allegedly seen leaving the area.
Ms Auret said a co-accused was stopped in the Golf in Belfast by a police armed response team the same day.
She told the court police sought Mr Greer until he surrendered himself on 6 June.
"Police by this stage had pieced together a variety of CCTV footage which showed the movements of his vehicle, the Golf, from Belfast to Newtownards on the day of the murder and also on the day prior to the murder, during what police believe to be a dry-run for the following day," she added.
Neil Rafferty, defending, accepted that Mr Greer's car had been used by someone.
But he stressed there was no allegation that his client was either a gunman or the driver of the Civic.
Monitoring conditions
"What really is suggested is that he made his car available," Mr Rafferty said.
"One can lend your car to someone who you know and not know what they intend to do with it."
He added: "That is far short of what would be necessary for a murder conviction."
Mr Rafferty told the court that Mr Greer may have panicked before deciding to go to police.
Granting bail, Mr Justice McCloskey held that the prosecution objections were not strong enough to warrant refusal.
He said the case against Mr Greer appeared to be that he was "an accessory before the fact".
The judge ordered him to live at his parents house in Bangor and directed that he is not to be released until they lodge a £10,000 cash surety.
Curfew and electronic monitoring conditions were imposed, along with a requirement for Mr Greer to surrender his passport and stay in Northern Ireland.
He was also told to hand over any mobile phones and banned from contacting his co-accused.