Warrenpoint homes evacuated after flooding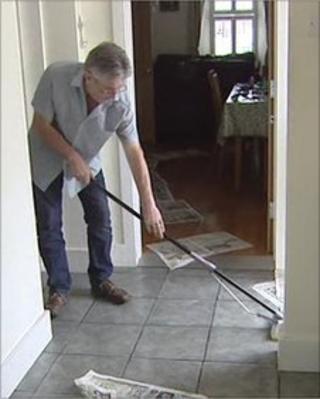 Three homes in Warrenpoint have been damaged following flooding in the early hours of Saturday morning.
Torrential rain and flash flooding in Clermont Gardens also affected the local wastewater pumping station.
NI Water were at the scene of the flooding since 08:00 BST, working alongside contractors to clear the water from the three homes.
The flooding was limited to the ground floor of the houses and included a "small element of raw sewage".
Other parts of Warrenpoint were also affected by the flooding but not to the same extent.
'Sewage water'
Resident Danny Byrne said the "last flooding was two years ago".
"There is about an inch of water all over my kitchen and my utility room and I don't know what has happened to the wooden floors underneath."
His neigbour, Gary Savage, said he found the flooding as soon as he came downstairs.
"I noticed there was a slight shine on the wooden floor and what appeared to be debris," he said.
"On further investigation I realised it was worse the further into the house I went. The water level outside had risen above the sills on the doors and brought in sewage water."
NI Water has apologised to the three households which were damaged.
"NI Water staff and contractors have been on site since early this morning and have been liaising with customers, and a clean up operation is underway," said a spokeswoman.
"NI Water will continue to monitor the situation and advise customers accordingly.
"NI Water would like to take this opportunity to apologise to those customers affected and to thank people in the area for their patience whilst we try to rectify this problem."
SDLP councillor Michael Carr said the homes "have a history of flooding in heavy rain".
"A new scheme was implemented last year - quite an extensive job done in Warrenpoint to make sure it wouldn't happen again - but on this occasion, the pumping station has let us down, the water didn't get away and some of the houses were affected again", he said.