Omagh man remanded in custody over attempted murder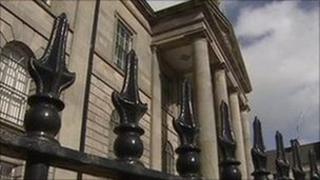 A 26-year-old Omagh man has been remanded in custody on a charge of attempted murder by a special court in the town.
Mark McGlone, of Castleview Park, is alleged to have stabbed a 47-year-old man with a broken glass.
The incident is alleged to have happened in the early hours of Friday morning at the Cellar Bar in Omagh.
A detective told the court that the victim had received 16 stitches to his throat and 14 to his face.
She said Mr McGlone later told police: "I don't know what happened. I just flipped and lost it."
The defendant did not speak except to confirm he understood the charge.