Three teenagers and a woman in court on rioting charges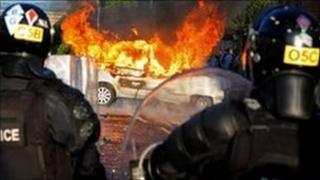 Three teenagers and a woman charged with rioting have appeared in court on Saturday.
Roberta Mahoney, 48, was released from Belfast Magistrates' Court on continuing police bail.
Tomas Lavery, 18, and two 17-year-olds who cannot be identified due to their age were remanded into custody.
Ms Mahoney, from the Short Strand area of east Belfast is accused of rioting and intentionally encouraging or assisting in a riot on 20 June.
The charges arose after serious disturbances at the interface on the lower Newtownards Road when police came under attack from various missiles and petrol bombs.
Ms Mahoney was released on her own bail of £50 and barred from going close to interface areas.
Mr Lavery, from Friendly Way, Belfast, and the two 17-year-olds also from the south of the city, all face a charge of rioting on 12 July.
Trouble erupted in the Markets area of the city as gangs of youths threw missiles at police and a member of the public was injured after being struck with masonry.
One of the 17-year-olds also faces further charges of riot, disorderly behaviour and assaulting police on 10 July, indecently exposing himself on 12 July and causing criminal damage on 5 August.
Constable Maguire told the court he believed he could connect all three teenagers to the charges.
They were remanded into custody as they had no suitable bail address and will appear in court again later in the week.