Alleged cash-in-transit robber seen as 'risk to public'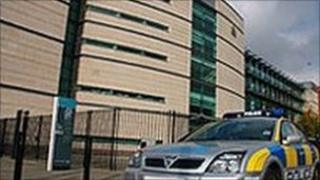 An alleged cash-in-transit robber was remanded into custody after he was described as "posing a risk to the public".
Anthony Christopher McCann, from Monagh Drive in west Belfast, appeared at Belfast Magistrates' Court on Saturday.
The 26-year-old was charged with robbing a cash box containing £9,000 on 25 July.
A security guard was alleged to have been threatened by a man wielding a wooden baton in a carpark.
Objecting to a bail application, a police constable said he believed Mr McCann "poses a risk to the public" and revealed that the alleged offence happened while he was on bail for other offences.
He confirmed to the solicitor that at the moment, the only evidence against Mr McCann was that he had been identified from five stills taken from CCTV footage.
The solicitor described these as "pixelated and vague".
"We say he is innocent, the case is weak and therefore bail should be granted," said the solicitor.
District Judge Ken Nixon said it was a "strong application but these alleged offences were committed whilst on bail".
The bail application was refused and Mr McCann was remanded into custody to appear again via video link on 12 August.