'Flags of hope' remember Thomas Devlin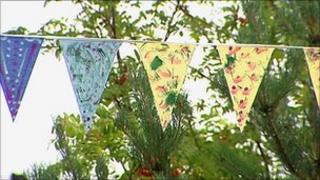 Ten thousand hand painted flags have been erected along a two mile stretch of Belfast's Peace Line.
The bunting, created by schools, groups and individuals from both sides of the community, began two years ago in memory of murdered schoolboy, Thomas Devlin.
The 15-year-old was killed in Belfast in 2005 as he and his friends walked home along the Somerton Road in the north of the city, after buying sweets in a local garage.
His family requested the creation of an arts event to give his death a positive legacy for the future.
Set up by the Belfast Flags project, the two mile long bunting also aims to break the Guinness World Record for the longest continuous line of flags.
Raymond Watson, the project's organiser, said the flags "portray images of a bright and hopeful future".
"The flag is very often a divisive format. We have taken the blank canvas format of the flag and have used art on it to use it in a new, positive and inclusive way," he said.