Portadown house fire: man saved by smoke alarm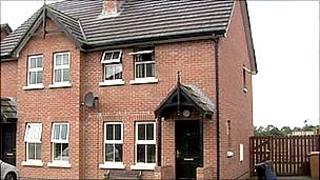 A 36-year-old man has been rescued from a house fire in Portadown.
The man escaped from the blaze by a first floor window, using a ladder provided by neighbours.
It happened at 21:00 BST in Carnreagh. The blaze is believed to have been started by smoking materials.
The man received medical treatment from an ambulance crew at the scene but did not need to be taken to hospital.
There was no one else in the house at the time and the man was alerted to the fire by two smoke alarms in the property.
Station commander Aidan Jennings said that having a working smoking alarm was crucial in saving the man.
"There were two smoke detectors fitted in the property. They did activate and made the young man aware of the fire," he said.
"Unfortunately, the doors were not closed so the smoke travelled through the house and as a result of that he had to make an escape through a first floor window because the property was so heavily smoke logged.
"Northern Ireland Fire and Rescue Service would ask all home owners to check smoke alarms on a weekly basis to ensure they work and close doors before going to bed at night to prevent smoke travelling."