Concerns over recruitment of new civil service head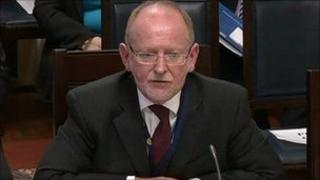 A body charged with ensuring government jobs are given on merit has expressed grave concerns about the proposed recruitment process for the next head of the civil service.
Sir Bruce Robinson is due to retire shortly.
The civil service commissioners are concerned that his successor will be chosen through an internal trawl instead of open competition.
The position is Northern Ireland's most powerful public sector job.
It was advertised internally on Monday and comes with an annual salary beginning at £141,000.
An appointment is expected to be made by late September/early October and will be subject to endorsement by the first and deputy first ministers.
He or she will have 28,000 staff and a budget of £19bn.
Sir Bruce has already written to the civil service commissioners explaining how his successor will be appointed.
Now the commissioners want to meet Sir Bruce to discuss his proposals.
In a statement, the commission chairperson Brenda McLaughlin acknowledged the decision to hold an internal competition was a matter for the civil service.
However she added: "Our view is that the merit principle is best served through fair and open competition."
'Unacceptable'
It has been claimed the head of the civil service in London and Dublin are recruited internally.
Speaking on Talkback, SDLP MLA John Dallat said he was "amazed" that the position was an internal trawl.
"Here was a chance to at least create the opportunity for someone from outside to apply for the job and that has been denied them," he said.
"That is unacceptable and I will be amazed if the first and deputy first minister's do not intervene in this".
Bumper Graham from Northern Ireland Public Service Alliance (NIPSA), which represents the majority of civil servants, explained the union's view on promotions.
He said: "NIPSA's position quite clearly is that we firmly believe there should be internal promotions where they can be justified and if that means justifying them on the basis of the candidate pool by satisfying equality considerations such as gender and community background."
"As a union we are saying public servants should have the right to expect to enter into a career and have promotion opportunities, but that right has to be guarded against in terms of ensuring that there are equal opportunities for all."