Gay Byrne hints at a Late Late bid for Irish presidency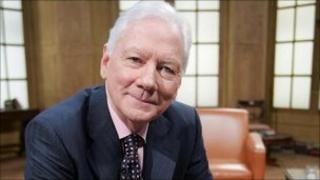 For decades he reigned supreme as the King of late night TV, and now Gay Byrne could be about to land an even bigger role in Irish public life.
The broadcaster, who fronted RTE's Late Late Show for almost 40 years, has emerged as a possible candidate for next year's presidential elections in the Republic.
It is the latest in an array of twists and turns that have followed the departure of Senator David Norris from the race.
The flamboyant politician controversially bowed out less than a week ago, after it emerged he wrote to Israeli authorities seeking clemency for his former partner Ezra Yizhak Nawi, who was convicted of the statutory rape of a 15-year-old boy.
The withdrawal of his bid has sparked a widespread sense of dismay amongst the Irish electorate.
During his short-lived campaign Mr Norris repeatedly topped opinion polls, and many voters have been left wondering where to place that all important first preference on the ballot paper.
It has lead to a sudden influx of potential candidates into the fray, including former Eurovision winner Dana and Fianna Fail's Mary Hanafin.
However, the swell of public support has firmly landed on Gay Byrne's shoulders, even though he has not been officially nominated.
A Sunday newspaper opinion poll put him at 34%, confirming he has taken over the "Norris Vote" and re-ignited the public's interest in October's election.
Underhanded
A bid from the former TV host may have initially looked like a pipe dream from a disheartened electorate, but Mr Byrne has since hinted it could come true.
The 77-year-old told RTE that if the "mass of Irish people" demanded he be the next president he would have to seriously consider it, as it would be "extremely demeaning and rude to the office of president" not to.
He acknowledged that his emergence as a possible candidate had been borne out of a feeling that Norris had been dumped out of the race through "underhanded" means.
"They are not quite sure how, they are not quite sure why, they are not quite sure who, but that is what they feel," Mr Byrne added.
Opposition leader Micheal Martin has added fuel to the presidential fire by claiming the next president of Ireland is not amongst the remaining four candidates, Labour Party president Michael D Higgins, Fine Gael MEP Gay Mitchell, Special Olympics boss Mary Davis and entrepreneur Sean Gallagher.
Mr Martin's party Fianna Fail has yet to put forward its choice for the Aras. Certain factions within the party want to see an internal member enter the race, but Fianna Fail has the option of choosing to endorse an independent candidate, such as Mr Byrne.
It is a path many political commentators believe Mr Martin may chose to take, considering the drubbing Fianna Fail received in February's elections.
Of course, Mr Byrne says he has not yet been approached by any political party on the issue and will still take some convincing before he officially throws his hat in the ring.
With less than three months to go before voters go to the polls, it looks like the race for Aras an Uachtarain is still very much wide open.
And at this rate there could be a candidate for everyone in the audience.