Translink to cut services and make drivers part-time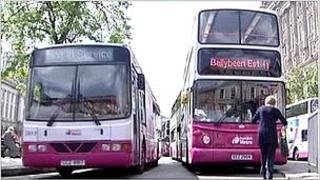 Fewer bus services and reducing the number of full-time drivers are among cost cutting measures being introduced by Translink, it has emerged.
The company has released some details of what routes will be affected in Belfast. There will be other changes "across the network".
Although frequency is being reduced, Translink said no routes will be cancelled.
The changes will be introduced on 1 September.
Other money-saving measures involve asking more drivers to give up their full time jobs and become part-time.
The union representing drivers, the GMB said it was concerned that if enough volunteers do not come forward there could be compulsory redundancies.
Michael Mulholland of GMB said the information coming from members was that they were "very unsure of their future".
"It was seen as a job for life in years gone past, but with the economic situation that we see ourselves in at the moment, individuals are having to look very closely at their options," he added.
Mr Mulholland said that potentially between 40 and 50 drivers could be required to move from full-time to part-time roles and it was likely this would be in the Ulsterbus section of Translink.
In addition, education boards have been told they have to shave millions off their school transport budgets, which will also have an impact on the company's income.
Translink said it has already reduced its workforce by several hundred in recent years through retirement and on a voluntary basis.
Before looking for any further reduction in job numbers, the firm said it would engage with its employees' representatives.