Smoke-filled train carriage evacuated in Jordanstown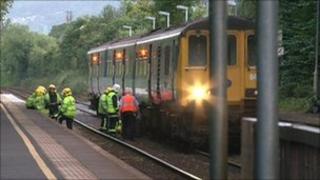 Passengers have been evacuated from a train in north Belfast after smoke filled a carriage.
The train was going from Belfast Central Station to Jordanstown when passengers reported that smoke was gathering in the carriage.
The driver stopped the train and the passengers were taken off as a precaution.
The Fire and Rescue Service said that a piece of machinery overheating was to blame.
The passengers were transported by bus for the remainder of their journey.