Northern Bank makes loss of £90m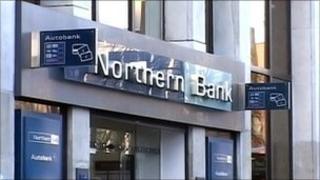 Northern Bank made a loss of £90m in the last six months.
The substantial loss is due to impairment charges the bank has to pay on bad property debts.
The bank revealed on Tuesday it had made a profit of £27.5m, but "impairment charges" of £112m has wiped that out.
An impairment charge is money set aside to cover loans unlikely to be repaid. Most of those losses relate to loans made to property developers.
The Northern has 82 branches and 1,700 employees.
It is part of the Danske Bank group, which as a whole made profits of more than £400m, before tax. Up 14% from the first half of 2010.
Commenting on the results, Chief Executive Officer Gerry Mallon said the mid-year performance was "as expected".
"Challenging market conditions - notably in property - make it necessary to maintain our prudent policy of making very aggressive provision for potential bad debts," he said.
"Given the ongoing deterioration in the ability of some customers to repay borrowing, we maintain our outlook for elevated impairments for the rest of this year."
Income levels have increased since the last six months of 2010 and overall deposit volumes increased by 5% year on year, although lending balances fell by 6% in the same period.
Mr Mallon also said the bank would remain committed to lending to the business community.
"Our appetite and capacity to lend still exceed demand. We continue to encourage good trading businesses to challenge us to support them," he said.
Peter Straarup, Danske's chief executive, said the group had achieved positive results in all markets, except in Northern Ireland and the Republic of Ireland.
"Overall, the group's loan impairment charges are down 28% from the first half of 2010, and we expect impairment charges to continue to decline," he said.
"Charges at most business units are now at or lower than normal levels.
"Charges at Retail Banking Denmark are approaching normal levels, while they remain high at the Irish and Northern Ireland banking units."