Arson attack on Quinn Group manager's car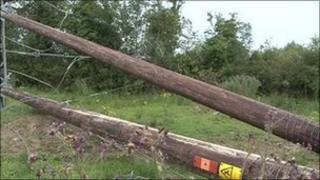 A car belonging to the chief executive of the Quinn Group has been destroyed in an arson attack.
Paul O'Brien became head of the company in April after Sean Quinn was stripped of control of his business empire.
Mr O'Brien's BMW jeep was set alight outside his house in Ratoath, County Meath, on Monday night.
It is the latest incident in an ongoing campaign of vandalism against the Quinn Group.
The front of Mr O'Brien's house and that of a neighbour's were also damaged by the flames. No one was at home at the time of the incident.
In a statement the Quinn Group said it totally condemned what was in effect "a terrorist attack" on the home and property of its chief executive.
"The perpetrators of this attack have been behind a series of incidents aimed at damaging Quinn Group property and machinery.
"The incidents began almost immediately after the appointment of a share receiver to the group last April and the removal of Sean Quinn as chairman."
Mr Quinn was removed over debts amounting to £2bn, owed to Anglo Irish Bank.
'Sinister'
Since his departure, there have been more than a dozen attacks on Quinn Group property causing hundreds of thousands of pounds in damage.
Vehicles have been set on fire and electricity poles connected to Quinn property had been cut down.
In another incident a cement factory near Derrylin was targeted and about £250,000 of damage was caused.
Fermanagh Sinn Fein MLA Phil Flanagan has condemned the latest attack on Mr O'Brien's home. He said it was a "new and sinister departure" from the previous acts of vandalism.
"This is an absolutely disgraceful act and how anyone could possibly attempt to explain this is completely beyond me," he added.
"Those behind this action need to think long and hard about what they are doing. This is way beyond any cause that could ever possibly be justified."
The Quinn Group statement said Mr O'Brien had worked hard to protect jobs at the company and the personal nature of the "cowardly attack" represented a "serious crossing of the line".
"All of the incidents which have taken place since April are clearly aimed at destabilising the group's businesses and putting the livelihoods of thousands of Quinn workers at risk," it added.
Mr Quinn had previously said those responsible for the damage were not acting in his name and called for them to cease.
PSNI Chief Inspector Sue Steen said Mr Quinn had told her the Quinn Group was "something he had worked very hard to develop over a number of years" and he did not want to see it "destroyed".