£75m of funding for new hospital in Omagh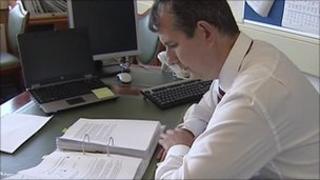 Health Minister Edwin Poots has announced £75m of funding for the first phase of a new hospital in Omagh, County Tyrone.
This new facility will include a health and care centre with GP accommodation.
It will also have intermediate care beds, a renal dialysis unit and a central sterile supplies department.
Mr Poots said the latest funding package was in addition to the £25m already invested in the project.
This was to acquire land and undertake some enabling works.
Mr Poots said it was hoped that further enabling works would begin immediately, with construction starting in 2013.
This phase of the hospital is expected to be finished during 2016.
Mr Poots said: "It is great news for the local community that the first phase of this new facility is well and truly on the way.
"It is particularly pleasing to progress an enhanced local hospital and the health and care centre element of this project which will provide first class accommodation for local delivery of services."
Western Health and Social Care Trust chairman, Gerard Guckian, welcomed the minister's announcement and said the trust had been involved in extensive planning for the project "over a significant period of time".
"I am delighted that the minister's commitment now will allow construction of these modern and much needed health care facilities in the enhanced local hospital for Omagh to commence," he added.