Lottery money 'revives Ballygally'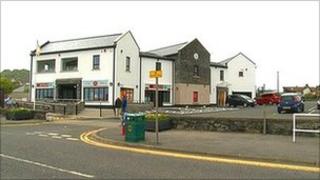 People living in the County Antrim village of Ballygally say they have put their community back on the map with the help of the Big Lottery Fund.
When the only shop in the village closed three years ago locals felt the heart had been ripped out of the area.
Jim McCurdy from the local community association said the village died overnight.
"Visitors drove on through the village, they had no reason to stop. It was devastating," he said.
The Ballygally Community Association decided to do something about it.
They secured funding from the Village SOS programme at the Big Lottery Fund as well as Larne council and others and they transformed the car park into a thriving shop and community centre.
And last month the shop doors opened and the village got its life back.
"It was like the village was on a life support machine and its heart has been brought back. It's really thriving," Mr McCurdy said.
"Local people have a place to go again instead of travelling a 12 mile round trip to buy the essentials."
Village SOS is open again this year to rural areas.
It is a Big Lottery Fund and BBC initiative that aims to help rural villages across the UK, many of which have been badly hit by the loss of local amenities and the recession.
The aim is that they regenerate their communities through new enterprises by inspiring people to get involved and make a difference in their communities.
Funding is available but this time a website has also been set up where communities can get professional advice on how to regenerate their area.
A programme documenting the journey of the other place to have benefited from Village SOS is aired on BBC One Northern Ireland at 20:00 GMT.
The website is available at www.villageSOS.org.uk.