Republican prisoner Brendan Lillis moved to hospital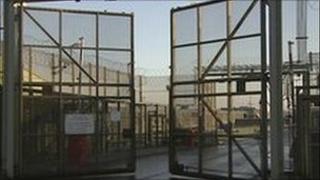 The family of a republican life sentence prisoner say he is being moved from prison to a hospital.
Brendan Lillis suffers from a severe form of arthritis and his family have campaigned for his release on compassionate grounds.
The Prison Service confirmed that a doctor has recommended Mr Lillis is moved to an outside hospital for assessment.
Mr Lillis was originally jailed in the 1970s on explosive charges.
He was released on licence in 1993 but returned to jail two years ago after he was arrested alongside other men who had been planning to rob a bank by kidnapping its staff.
It is believed Mr Lillis will be transferred from Maghaberry Prison to a hospital on Tuesday evening.
A spokesman for the Prison Service confirmed the change in situation.
"The South Eastern Health and Social Care Trust has primary responsibility for health care within prisons," he said.
"A doctor has recommended that Mr Lillis be transferred to an outside hospital for assessment. The prison service is working to facilitate this request."
Earlier this year, it was decided Lillis was too ill to stand trial, although he could face charges if his health improves.
On 19 July, the Prison Service said there were not sufficient grounds to justify his release on compassionate grounds.
The case was then passed for consideration by the parole commissioners. They also ruled he should not be released on compassionate grounds.
The Justice Minister David Ford has met with Roisin Lynch, the partner of Mr Lillis, to discuss the matter and welcomed the republican's supporters to make further representations on the case for his release.