Derry shooting victim told he has 24 hours to leave city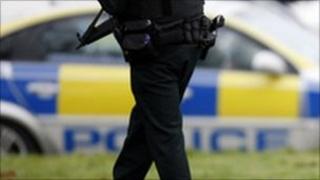 A Londonderry man who was shot by two masked men on Tuesday night has said he was told he had 24 hours to get out of the city.
Gunmen shot Raymond Warnock four times at his home in Ewing Street, near Bishop Street around 22:00 BST.
Local politicians said children were playing in the area at the time.
The police said they could not comment on a motive for the attack. Mr Warnock was recently acquitted of indecent assault on a minor.
He was taken to Altnagelvin Hospital and treated for his injuries ,which are not life-threatening.
Mr Warnock said he had just started watching the news when the shooting happened.
"I would usually not lock my door, the door would be closed but not locked, and usually my friend John across the street would come in," he said.
"I just heard the door opening and I thought it was John.
"They were standing in the hallway for a couple of seconds, then the two of them burst in the door, wearing balaclavas and pulled out two guns.
Warning
"They asked me my name and they said: 'You have 24 hours to leave Derry'.
"Then they started shooting. They shot me in the leg three times and in my arm once."
Mr Warnock, who has three children, said he had no idea why he was targeted.
"I would like to know why, and whoever the cowards are to come forward and say why this was sanctioned in the first place," he said.
"Who sanctioned this. Which group in the town did this?"
A car parked outside Mr Warnock's house was also damaged. Shots were fired through the back windows.
Foyle MLA Mark H Durkan said that people in the city were "shocked and disgusted" that such an attack could happen on their doorstep.
He added: "It is certainly not an attack that has been carried out in the name of the people of Ewing Street, it is certainly not an attack that has been carried out in the name of the people of Derry."