Attwood accuses Coiste na nIarchimi of double standards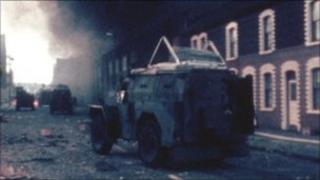 A republican ex-prisoners group has been accused of double standards over its demands on the issue of internment.
Coiste na nIarchimi is seeking compensation for six former detainees who served writs on the Ministry of Defence, the NI secretary of state and the police on Tuesday.
SDLP MLA Alex Attwood said the group should demand the same standards of its own members as it does of the state.
Coiste na nIarchimi has defended its position.
The writs were delivered at Stormont on Tuesday on the 40th anniversary of internment.
In the early hours of 9 August 1971, dozens of people were rounded up in Northern Ireland by security forces in an attempt to bring an end to violence.
Three hundred and forty-two people, suspected by the police of being in the IRA, were detained without trial.
Mr Attwood said those who had suffered from internment had the right to seek justice and compensation from the state, but he said the approach of Coiste na nIarchimi was "hard to swallow".
"Coiste wants the British government, in individual cases, to pay compensation and to tell the truth and to do so now," he said.
"Those are the same standards that Coiste should be demanding of each of its members and the organisations from whence they came - justice and accountability in individual cases, and where their members have knowledge or involvement.
"You cannot demand of the state a set of actions and not demand the exact same set of action of yourselves.
"But for Coiste it is far too much one way traffic.
"Loyalist and republican ex-prisoner groups need to face up to this."
The chairman of Coiste na nIarchimi, Sinn Fein assembly member Raymond McCartney, said Mr Attwood was "misinformed" on the matter.
He said the case was one of a number it had been involved with over the past 15 years.
He said Coiste na nIarchimi had been "very progressive" in relation to issues such as "truth" and "healing through remembering"
"Everyone now seems to accept that internment was morally wrong and that those who were interned should seek some redress as a result of it," he added.
"I think that people shouldn't paint these situations as either or."
The former internees are also suing the estate of the late Brain Faulkner, the former Northern Ireland prime minister who first ordered internment.
Of the 342 people arrested in the first day of internment, 104 were released within 48 hours.
The policy was ended in December 1975 by then Secretary of State Merlyn Rees and the final 75 detainees released.
The majority of internees - 1,874 - were nationalists, but more than 100 were loyalists.