Four arrested in Portadown over NIE copper theft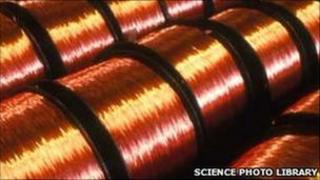 Detectives in Portadown have arrested four men after what police have described as a "proactive operation" against the theft of copper.
Copper was stolen from an NIE site at Carn industrial estate on Monday night or Tuesday morning.
Police monitored the site later on Tuesday and observed a number of people attempting to remove copper at about 23:50 BST.
A quantity of copper was later found at a house in Carnagat Park.
The four men held are 27, 33, 34 and 35.