Londonderry kitten rescued from River Faughan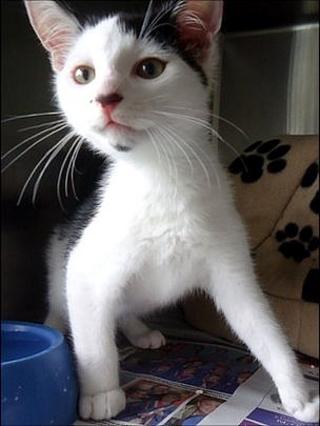 Meet Jonah, the 12-week-old kitten saved from a river after his owner tried to drown her.
The tiny cat was pulled from the water by a passer-by last week and taken to the Rainbow Rehoming Centre in Londonderry.
Amazingly, he has survived his traumatic ordeal. But four other kittens, who were thrown from a bridge at the River Faughan in Drumohoe alongside Jonah, were not as lucky.
"A man saw the cats in the water. He managed to rescue one kitten but couldn't get the others," said the Rainbow Centre's Helen Davis.
"He wasn't too good when he arrived. He had an ear infection and had to be wormed and deflead. He's doing quite well now, but he hasn't been rehomed yet."
Joanne Mullan, who also works at the centre, said it was a "senseless and sadistic act of cruelty".
"These kittens would have been helpless and terrified," she added.
"A veterinary practice is based in Drumahoe, very close to this bridge, surely this man could have left the kittens there rather than toss them to their deaths off a bridge into a river."
The centre has been struggling to cope with the number of stray cats and dogs that have been passing through its doors.
Many of the animals have been subjected to serious acts of cruelty.
"We had a puppy come in about three weeks ago. A group of children had found it in a river covered in slurry. He was blind and deaf," added Helen.
"Thankfully his eyesight gradually started to come back and we rehomed him.
"The situation is absolutely getting worse. Most sanctuaries across Northern Ireland are overwhelmed. We depend so much on our volunteers. We couldn't do it with out them."
Helen and Joanne said they are hopeful they will find Jonah a new home.
In the meantime he is enjoying some much-deserved TLC at the Rainbow Centre.