Housing Executive shuts offices after worker threatened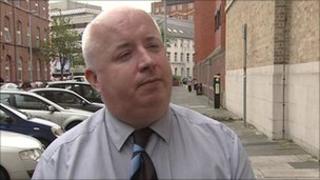 The Housing Executive has closed two sub-offices in County Down after a member of staff was threatened.
It said an employee at an office in Ballynahinch was subjected to verbal and threatening behaviour by a member of the public.
The executive said another office in Newcastle was also closed as part of the risk assessment procedure into the incident, because it was manned by a single member of staff.
It said it hoped it would be able to re-open the offices, but it must be satisfied that staff will be safe.
It is believed the person responsible for the attack was known to the staff member.
"For the female worker who was working there in isolation, it was extremely traumatic," said Liam Gunn of the Housing Executive.
"The perception of the staff member was that there was the potential for violence."