DVA chief executive Stanley Duncan is suspended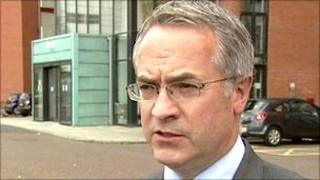 The chief executive of the Driving and Vehicle Agency has been suspended from his post pending the outcome of disciplinary proceedings.
Sources have told the BBC that Stanley Duncan is the senior official from the Department of Environment who has been suspended.
A DOE spokesman declined to comment.
However, the permanent secretary of the department is believed to be meeting with his replacement and a memo is being drafted to staff.
The department said the suspension had been made to facilitate disciplinary proceedings and did not presume any specific outcome to the process.
Environment Minister Alex Attwood said the move "was proportionate".
"When these proceedings have been completed I will ensure that the outcome and details of the background to the issues are provided, where appropriate, to the environment committee and to the assembly.
"In the meantime it is important that no inferences are drawn about any individual pending the completion of the department's disciplinary proceedings," he said.