NI Water causes bewilderment as green boxes appear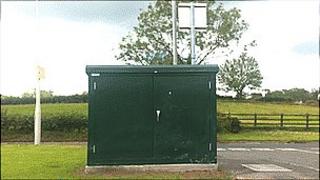 What would you do it you returned from holidays to find a metal box almost six feet high outside your house?
Geoff Jeavons from Carrickfergus was that unlucky person.
He used to look out over green fields from his living room, now directly in his eye line is a green metal box measuring 5ft 7ins high and 5ft 7ins wide.
"If you look out the front window all you can see is a huge green box," he said.
"No letters have came through the door about it, there was no correspondence about it, nobody in the street was told about it. It just appeared."
Bemused as to what it was for and who put it there, Mr Jeavons went to investigate.
"It's not even locked and when you open it it says Water Board meter," he told BBC Radio Ulster.
"I called the Water Board and they said they knew nothing about the green box.
"They said they had no men working in the area at all, but for the last couple of months the Water Board van has actually been outside at a manhole in the road."
Three of these boxes have now sprung up in Carrickfergus.
In a statement Northern Ireland Water (NIW) confirmed in was working on a "specific project" in the area.
"This project will result in obtaining improved data quality and flow measurement across the water distribution network," said the statement.
"The work involves the installation of telemetry equipment which is housed within kiosks positioned at strategic locations in the town."
Mr Jeavons has complained to NIW about the positioning of the kiosk.
NIW said a review of the sites has commenced.
"Where appropriate, alternative locations are being considered or alternative kiosk sizes are being sourced," said a spokesperson.
"Actions resulting from this review will be carried out as soon as possible."