£250k of lottery wins unclaimed in County Down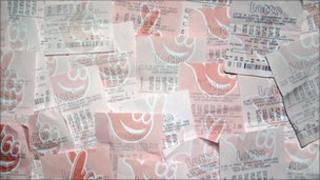 Two lottery wins, amounting to more than a quarter of a millions pounds, have yet to be claimed by ticketholders in County Down.
Both were won by tickets that had five balls plus the bonus.
If the prizes remain unclaimed the money, and the interest it has generated, will go to Good Causes.
A National Lottery spokesperson said the money could make a huge difference to people's lives and urged people to check their old tickets.
In May, £90,660 was won by someone who bought a ticket in the county.
It was for the National Lotto draw on 28 May. The winning numbers were 2, 3, 17, 23, 40, 43 and the bonus ball was 31.
And someone else is unaware they are £186,162 richer.
In this case the ticket was for the draw on 27 July and the winning numbers were 4, 16, 22, 34, 39, 42 and the bonus ball was 35.
The May prize money can be claimed up until 24 November, the deadline for the July win is 23 January.
Anyone who believes they have the winning ticket for any of the National Lottery draws within the 180-day deadline should call the National Lottery Line on 0845 910 0000.