Dunloy man Paddy Lavery died after lighting fake fire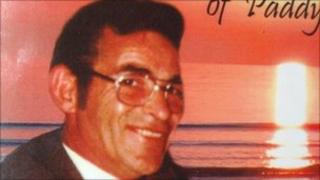 A pensioner died from smoke inhalation after he thought he was lighting a real fire when in fact it was a fake coal electric fire, an inquest has heard.
The appliance had just been installed by the Housing Executive, which was putting in new central heating systems in a County Antrim housing estate.
The real fire had been removed and the chimney flue blocked.
Paddy Lavery, 71, died on 23 April last year at his home in Braeside Park in Dunloy.
His body was found by police alongside his pet Jack Russell dog 'Tiny'.
Mr Lavery, who once served in the Royal Navy and worked in the Michelin tyre factory in Ballymena, was a brother of former Belfast deputy mayor Danny Lavery.
Coroner, Suzanne Anderson, in her findings, said Mr Lavery had a history of alcoholism and mild cognitive impairment and lived alone in a Housing Executive bungalow.
On 22 April, she said the Housing Executive, as part of work at Braeside Park, replaced the existing coal fire at his home with an electric fire and the flue was sealed.
While the work was being carried out Mr Lavery spent the day at his sister's house nearby before returning home at 7pm which was the last time anyone saw him alive.
Firelighters
Ms Anderson said the next morning a care worker called to the house and after being unable to gain entry the police were eventually called and Mr Lavery was found dead in the house at 11am.
Mr Lavery had "used coal and firelighters to light a surround in a coal effect electric fire" and death was by carbon monoxide poisoning.
A statement from Assistant State Pathologist Dr Peter Ingram said death was from smoke inhalation and there had been low levels of alcohol in Mr Lavery's blood.
The inquest heard from a police constable who said when he forced his way into the house he found Mr Lavery lying dead on a bed in the soot-covered living room and a smoke alarm in the nearby hall was covered with a dust cover.
He said Mr Lavery's sister Ann told him the deceased had been becoming more confused and although he had lived in Dunloy for 10 years thought he still lived in Belfast and she believed it was possibly the onset of dementia.
In a statement, Ann Lavery said she was concerned about her brother and had tried to get health professionals to get him into a care home for his own safety.