Political landscape: UUP MLA showcases artistic talents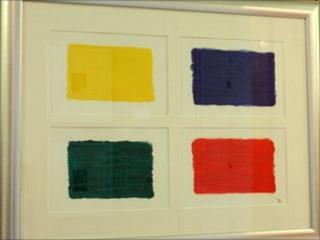 If you are wondering who is responsible for this quirky piece of art, then you don't have to look any further than Stormont.
The painting is by South Antrim MLA Danny Kinahan and is part of an exhibition at the Great Hall in Parliament Buildings, which runs until the end of the month.
The works are the result of a recent Metropolitan Arts Centre competition and showcase the artistic talent of some of the 108 members of the Northern Ireland Assembly.
A panel including BBC presenter Wendy Austin, journalist and art expert Eamonn Mallie and artist Neil Shawcross judged the competition.
And it was Mr Kinahan's design that caught the eye of the panel.
The winning painting will take pride of place at parliament buildings for the duration of Mr Kinahan's mandate until 2015.
Assembly Speaker William Hay said it is the first time the Great Hall has been used as a display space.
"I think this will add something extra to the experience of all those who come and visit Parliament Buildings," he added.
"Not only is it the home and centre of political life here but we also want to make it a welcoming place for all our citizens and visitors."