Poots meets MLAs to discuss A&E plans for Belfast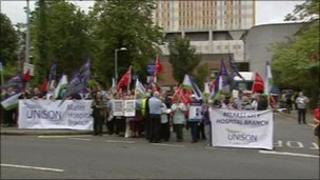 The Health Minister Edwin Poots has met a delegation of MLAs from south Belfast to discuss A&E services in Belfast City Hospital.
Last month Mr Poots said a shortage of junior doctors had put a question mark over the viability of the unit.
A decision is expected by October. The unit at the City Hospital is currently used by around 42,000 people each year.
There are two other accident and emergency units serving Belfast - the Mater Hospital and the Royal.
Speaking after the meeting, the minister said: "I have had a very useful meeting with assembly representatives from south Belfast.
"We have addressed a number of issues around the Belfast City Hospital and emergency care provision in the Belfast Trust area.
"I am acutely aware of the issues raised by any possible changes to the A&E structures in the City Hospital and that is why I invited my assembly colleagues to meet me. I am listening to those voicing their concerns.
"Issues do remain, however, in terms of appropriate junior doctor and consultant cover within the emergency department.
"Ultimately, patient safety is my top priority and I must act quickly and decisively to ensure that standards are maintained."
Former health minister and south Belfast MLA, Michael McGimpsey said he remained "unconvinced" by plans to close the Belfast City Hospital Accident and Emergency unit.
He said he was not reassured that the proposal had been thought through sufficiently so that patient care will not be affected.
"No explanation was given as to why the City Hospital was picked for closure over the Mater, nor did there appear to have been sufficient consideration given to the capacity of the two remaining accident and emergency units to cope with demand," he said.
Mr McGimpsey said no decision should be taken on accident and emergency services in the Belfast Trust area until the new critical care building at the Royal and Ulster Hospital A&E were complete.
Mr Poots said the future of A&E services in Belfast was "still being finalised".
"Details are currently under discussion within the trust but I can assure everyone that safety and quality of care for patients is the overriding priority," he added.