Quinn Group attacks 'could kill' says CEO Paul O'Brien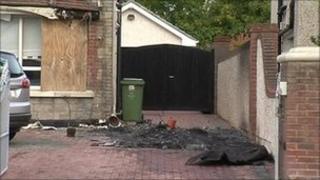 The chief executive of the Quinn Group has said he fears a campaign of violent attacks against him and the business could result in someone being killed.
Paul O'Brien's car was destroyed and part of his house damaged by arsonists.
It was the latest in a series of attacks since Anglo Irish Bank took control of the business from the Quinn family.
Mr O'Brien said he believes the violence has been orchestrated to try to get the current management out.
Sean Quinn, the group's former owner, has unequivocally condemned the attacks.
"I wish to state in the most categoric terms that I have no knowledge whatsoever of any unlawful acts in relation to individuals or property associated with the Quinn Group other than what I have read in the media," he added.
The attack at Mr O'Brien's home on Monday night was the latest incident in an ongoing campaign of vandalism against the Quinn Group.
The front of Mr O'Brien's house and that of a neighbour's were also damaged by the flames. No one was at home at the time of the incident.
There have been more than a dozen other attacks on Quinn Group property causing hundreds of thousands of pounds in damage.
Vehicles have been set on fire and electricity poles connected to Quinn property had been cut down.
In another incident a cement factory near Derrylin was targeted and about £250,000 of damage was caused.
Sean Quinn and his family owe Anglo Irish Bank 2.88bn euros (£2.52bn). Other lenders to the Quinn Group are owed almost 1.3bn euros (£1.13bn).
Four years ago Mr Quinn was the richest man in Ireland, worth 5bn euros (£4.4bn) according to Forbes magazine.
Many people in Fermanagh view Mr Quinn as the man who brought thousands of jobs to the area.