Lough Erne resort manager Jonathan Stapleton resigns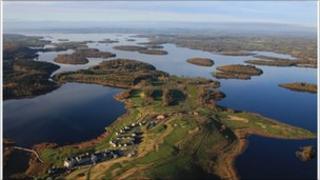 The manager of the five-star Lough Erne resort near Enniskillen has resigned.
The hotel and golf facility was put into administration in May with former owner Jim Treacy owing Bank of Scotland Ireland (BoSI) £25m.
Administrators KPMG have said manager Jonathan Stapleton is leaving his post at the end of August to pursue other opportunities.
Before joining the Lough Erne resort, Mr Stapleton was manager of the Old Course Hotel at St Andrews in Scotland.
Earlier this year, he collected the award for best hotel at the Northern Ireland Tourist Board awards ceremony.
The Tifco Hotel Group, based in Dublin, has been appointed to run the hotel.
As well as owning its own facilities, it manages a number of insolvent hotels on behalf of administrators and receivers.