Road works rumble on for two years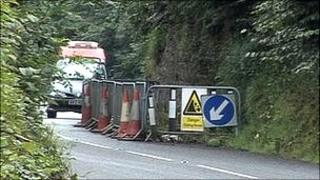 It is a sight no driver wants to come across - road works. But imagine if you had to put up with the same road works for nearly two years.
Well that is what the people of the village of Cullybackey, close to Ballymena in County Antrim, have had to put up with.
In 2009, there was subsidence on land to the side of the Kilrea Road causing a wall to collapse.
The Department of Regional Development (DRD) told the landowner, local resident Andrew Frazer, that he would have to clear it up.
However, he did not believe he was responsible and appealed that decision. Since then, the two sides have been locked in a legal dispute.
It's meant that one side of the Kilrea Road has been blocked by a barrier, with signs erected by the department to warn there is a priority traffic system in place.
It's on a windy part of the road and drivers have to be sure there are no other road-users coming around a tight corner before pulling out.
Cars 'flying'
Residents, like Elza Margrain, say it is an accident waiting to happen.
"That wall collapsed in October 2009 and its been like that ever since," she said.
"This is a very busy road and they've spent money on putting up these permanent signs instead of spending the money on fixing the road.
"It's dangerous when you're coming up from the village because despite the movement of the speed limit sign, people come flying down this road far too fast.
"You have no idea when you are going down the road whether the people going up the road are actually going to abide by the one-way system. It's an accident waiting to happen"
Earlier this month, a court ruled that the DRD was responsible for fixing the wall and not the landowner.
In a statement, the department said it would not be appealing the result as "this would result in further significant delay in restoring two-way traffic".
It added: "Without prejudice, the department's Roads Service will carry out repairs as soon as a design and procurement process has been completed.
"The department regrets the inconvenience caused to road-users during this protracted period of legal consideration. "
However, DUP MLA for the area, David McIlveen, said it shouldn't have taken so long to sort out.
"I think what we've had here is an issue of blame game over public safety and this dispute has been going on for somewhere in the region of two years and we're still without a remedy," he said.
"I think the Roads Service has been embroiled in this dispute for too long and I think they have also been let down, in some regard, by their Executive bosses.
"We have had both the ministers for Regional Development and Environment in this constituency - one of which was in Cullybackey just two weeks ago - and they didn't even come and look at this particular site so there's clearly a lack of interest there.
"I think the people of this village deserve better than that and we're actually going to keep working to ensure this matter is brought to as swift a close as it possibly can."
The department said it did not know yet how much the two-year legal dispute has cost. It also didn't have a final estimate on what it will cost to fix the road.
However, it did reveal that it's spent nearly £2,000 on putting up signs warning of road problems in the area.
The landowner said he had nothing further to add.