Broadcaster Gay Byrne tipped for Irish presidency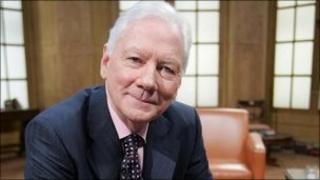 RTE broadcaster Gay Byrne is the most popular choice to become the next president of Ireland should he agree to become a candidate, a survey has found.
The 77-year-old radio and television presenter received 28% of first preferences in the poll carried out this week for bookmaker Paddy Power.
Labour Party candidate Michael D Higgins was second favourite with 21%.
Mr Byrne emerged as favourite following the withdrawal of Senator David Norris last week.
Senator Norris announced his withdrawal after it emerged he wrote to Israeli authorities seeking clemency for his former partner Ezra Yizhak Nawi, who was convicted of the statutory rape of a 15-year-old boy.
Other presidential hopefuls are: Brian Crowley, Mary Davis, Sean Gallagher, Gay Mitchell and Dana Rosemary Scallon.
Fianna Fail's Brian Crowley and Fine Gael candidate Gay Mitchell both received 13% of the vote.
Independent candidate Sean Gallagher was backed by 12% of poll respondents.
Mary Davis, also Independent, had 7% and Dana Rosemary Scallon 6%.