Grove Wellbeing Centre knife attack -man charged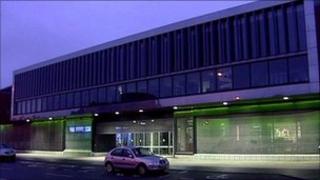 A man has been charged with attempted murder following the stabbing of a woman in Belfast on Thursday.
The 23-year-old was also charged with attempted grievous bodily harm and possession of an offensive weapon.
The 40-year-old woman was stabbed more than 20 times in the Grove Wellbeing Centre on the York Road.
She is described as being in a stable condition in hospital. Sinn Fein has called on the health minister to launch an immediate inquiry.
Staff and members of the public who were in the reception area where the attack took place were left shocked and horrified after witnessing the stabbing.
'Serious concerns'
Sinn Fein MLA Gerry Kelly called on Edwin Poots to begin an immediate inquiry into the role of social services leading up to the incident.
"My information is that the woman had expressed serious concerns about being asked to attend the meeting.
"It seems that these concerns were tragically not taken into account," he said.
"Obviously the criminal part of the investigation is proceeding but this does not deal with the concerns being raised with me about the role of Social Services in the events leading up to the attack."
The Department of Health said the Belfast Trust had informed it of a "serious incident" which took place at the Grove Wellbeing Centre which was now the subject of an ongoing police investigation.
"Our thoughts are with the victim and her family," a spokesman added.
"Staff who witnessed the incident are being supported.
"An internal trust review will be undertaken to establish whether existing staff and client safety arrangements need to be strengthened."