Wrist injury puts Rory McIlroy's major hopes in doubt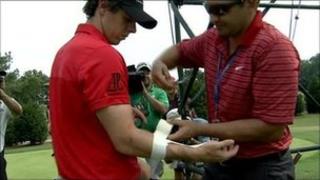 Rory McIlroy's dreams of a second major win this year have suffered a serious blow.
The Holywood player injured himself early in the first round of the USPGA championship on Thursday evening.
He jarred his wrist against a root just below the ground when playing from the trees on the third hole
He decided to play on after receiving physio treatment and pain killers.
After his next shot commentators were wondering if he should continue after he looked in pain but Rory played on with his wrist strapped.
PGA Tour Physio Digby Watt treated Rory's wrist.
Motion
"He had some good resistance," he said.
"He had full range of motion through his wrist.
"Nothing seemed to really, really irritate it, so hopefully he has ruled out any kind of fractures or ligament tears.
"If it's a nerve irritation, it's up to the player as long as he ices it, maybe a little tape to support it.
"Hopefully he should be able to get through the round without any further damage."