Lagmore shooting: Boy on murder bid charge refused bail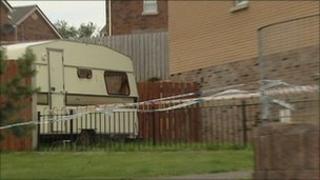 A 14-year-old boy charged with attempted murder following the shooting of a man in Lagmore on the outskirts of west Belfast, has been refused bail at the High Court.
The case is linked to a dispute in the traveller community during which a man was shot in the ankle at his caravan at Hazel View on Monday.
The boy was also refused bail on Wednesday.
Three men have been charged with attempted murder over the shooting.
Mr Justice McLaughlin refused bail to the boy after being told the attack was part of a feud within the traveller community.
The suspect, who cannot be named because of his age, has been charged with attempting to murder John Delaney, criminal damage and possession of an offensive weapon.
Two shots were fired into the victim's caravan.
One is believed to have been aimed at head height, with that bullet recovered from a wardrobe door.
A second shot hit the victim in the ankle.
The prosecution claimed the boy was armed with a gun and wearing a balaclava.
Defence lawyer Neil Rafferty argued that there was a statutory presumption of bail for someone so young.
He also took issue with prosecution claims that his client, who is studying for his GCSEs, was the masked gunman.
Mr Rafferty said the accused's appearance was significantly different from that given of the person alleged to have fired the shots.