Belfast City Hospital A&E could close in September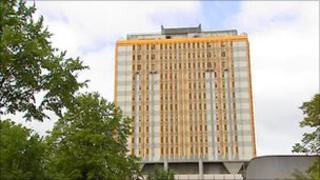 The accident and emergency unit of Belfast City Hospital may close temporarily from the end of September.
A shortage of senior staff is being blamed for the reduction in services.
Health unions and other involved groups are to be consulted on the move and the state of emergency services across Belfast in September.
Colm Donaghy, the chief executive of the Belfast Health Trust, confirmed in an interview with the BBC that possible closure of the unit had been discussed.
"What we are planning to do is to actually ensure that we continue to provide emergency services to the population in Belfast," he said.
"We believe that, if we are not able to mitigate the staff shortages, we may have to plan to actually close the accident and emergency services at Belfast City Hospital on a temporary basis from the end of September."
'Utilise resources'
Mr Donaghy said anyone in Belfast requiring A&E during the temporary closure should attend the Royal Victoria Hospital.
"We want to have a model whereby while the emergency A&E intake will be at the Royal that we utilise the resources we have on both sites, including beds," he said.
"At Belfast City Hospital there will still an acute medical service backed up by an acute medical admissions unit.
"What we will be doing is using the capacity at Belfast City to ensure that people who require ongoing treatment after they have been admitted through the Royal actually get that care appropriately."
A consultation paper is due to be published in September which will outline the five-year plan for emergency services care in Belfast hospitals.
The plan will suggest the Royal Victoria Hospital becoming the major trauma site with the City and the Mater's accident and emergency departments being reduced to providing smaller, acute medical cover instead.
As well as the health unions, the consultation will also seek to hear from groups such as the Royal College of Nursing and the British Medical Association.
'Let down'
Janice Smith from the Royal College of Nursing said staff working at the A&E at the City Hospital had been aware there were problems with medical staffing.
"I think nurses and the RCN feel let down because we have been here before," she said.
"We have been here before with the Whiteabbey and Mid-Ulster A&E units, and it's not that we're disputing what needs to be done.
"The issue that we have is the engagement with front line staff in discussing what needs done, and in shaping up how to deliver the services and indeed giving them an opportunity to make changes to their personal circumstances."