Grove Wellbeing Centre knife attack - man charged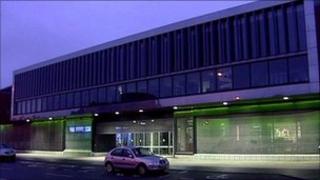 A man has been remanded in custody charged with attempting to murder a woman in a stabbing in the Grove Wellbeing Centre in north Belfast.
Darren Todd, 23, from Pound Street in Newtownards, is charged with the attack on a 40-year-old woman.
It is believed Mary McReynolds was stabbed more than 20 times.
The accused is also charged with attempting to cause grievous bodily harm to a man and with having an offensive weapon.
The hearing at Belfast Magistrates Court lasted for less than two minutes.
The victim is described as being in a stable condition in hospital.
Staff and members of the public who were in the reception area where the attack took place were left shocked and horrified after witnessing the stabbing.